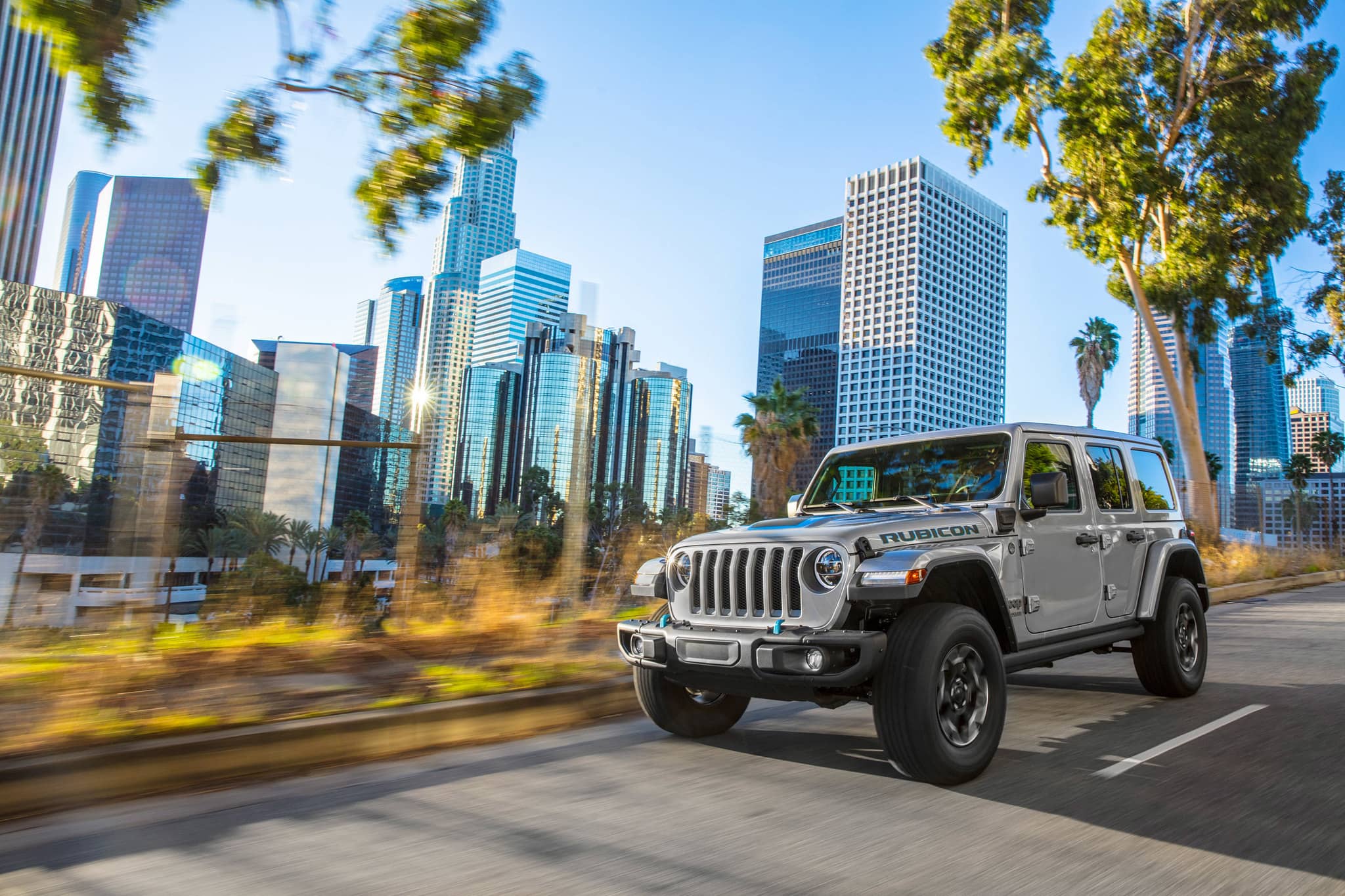 2021 Jeep Wrangler 4xe
Jeep

®

 is taking a massive leap into the future, and they're bringing one of their most beloved vehicles with them. The all-new 2021 

Jeep

®

 

Wrangler 4xe

 will be arriving at dealerships in December, and its release will usher in a new era for adventurous drivers.
The new Wrangler 4xe combines the legendary power and freedom that made Jeep® famous with the innovation of plug-in electric technology. Read on for a sneak peek at what this new hybrid that Jeep® has to offer.
A new direction
The all-new 2021 Wrangler 4xe is a fresh, new direction for an old favorite. The design, look, and feel of the new Wrangler is classic Jeep®, but the electric technology that powers it is a bold step in a new direction. With the strength of a plug-in hybrid turbocharged engine, you'll conquer the toughest roads with ease. Better still, the electric engine is almost silent, allowing you to better enjoy the sounds of untamed nature as you journey off the beaten path. Charging your Wrangler 4xe will be made simple with the help of Amazon and their Happiness Guarantee for in-home charging installation.
The capability you love
The technology behind the Wrangler might be different, but its capability is better than ever. You'll enjoy the power, freedom, and technological edge that Jeep® has always provided, including the usual suite of exciting off-road features. The 2021 Wrangler 4xe's hybrid turbocharged engine will provide you with an impressive 375 horsepower and 470 lb-ft of instant torque, and can accelerate you from 0-60mph in a mere six seconds. No matter what roads you decide to conquer, the new Wrangler 4xe will stand ready to get you there.
Drive to These Outdoor Destinations in Illinois
Jeep Wrangler owners are all different, but there is one thing that unites each and every one of the iconic SUV's many fans: a sense of adventure.
Quench your thirst for thrill by taking your Jeep Wrangler on a day trip to one of these outdoor destinations nearby Dixon, IL.
Sam Parr State Fish and Wildlife Area
Outdoor adventure lovers will go crazy for the beauty of Sam Parr State Fish and Wildlife Area in Jasper County, Illinois. The park, which is just outside Newton, IL, is a haven for fishermen and photographers. Onsite, you'll find a lake that spans 183 acres. It is open to canoes, kayaks, and paddle boats, so use this opportunity to test out the mighty towing capacity of your Wrangler. In late summer, the park comes alive when it is full of sunflowers. Bring your Wrangler (and your camera) for a can't-miss photo opportunity.
Phillips Park
Famously known as the crown jewel of the spectacular family of parks in Aurora, Illinois, Phillips Park is an outdoor destination worth leaving Dixon, IL to see in your Jeep Wrangler. The park spans a massive 325 acres of land, and contains a golf course, zoo, pool, and fabulous Sunken Garden. The regal Sunken Garden was originally a Works Progress Administration project from the 1930s, and now features special exhibitions of floral artistry to celebrate the seasons.
Southwind Park
One of the most unique outdoor destinations to drive your Jeep Wrangler to visit in Illinois is Southwind Park. The park, which is situated in Springfield, IL, was built to be both environmentally-friendly and supremely accessible for all visitors. The park includes a Tranquility Garden designed especially for individuals with dementia in mind, while the Fragrant Garden has sensory activities that can be enjoyed by individuals with limited vision. The entire park - which features a tram for those with limited mobility - was built to eliminate the barriers to access for people of all cognitive and physical abilities.
The Jeep Wrangler is ready for adventure in any outdoor destination near Dixon, IL. If you need a new Wrangler or SUV to take out as you explore, contact the team at Ken Nelson Chrysler Dodge Jeep Ram.
Hours
Monday

08:30AM - 07:00PM

Tuesday

08:30AM - 07:00PM

Wednesday

08:30AM - 07:00PM

Thursday

08:30AM - 07:00PM

Friday

08:30AM - 06:00PM

Saturday

08:30AM - 05:00PM

Sunday

Closed
Make an Inquiry